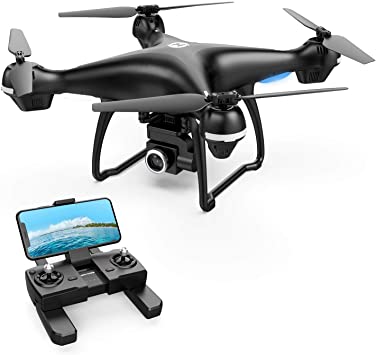 Holy Stone is one of the leading drone manufacturers, and if you?re looking for a quality drone, you might want to check out their catalog. This brand offers an array of different models spread throughout beginner, advanced, and premium categories, so both beginners and intermediate-level pilots have a myriad of foldable, GPS-assisted, Wi-Fi, and camera-equipped drones to pick from. Let?s take a look at some of their finest models:
Best Holy Stone Drones
Holy Stone Beginner Drones
Holy Stone HS 170 Predator Mini Helicopter Drone
Our first pick on our list of the best Holy Stone Drones in 2020 is the HS 170 Predator Mini-Helicopter Drone. Essentially, this is a beginner-level drone that is equally suited for kids and adults who don?t have much experience with drone technology.
In a nutshell, the HS 170 Predator is a relatively fast drone that features a headless security technology, 2.4 GHz of top-quality Anti-interference tech, six-axis gyro stabilization, a wind-resistant frame, and it offers up to eight minutes of total flying time.
The most notable feature of this drone is its built-in stabilization technology. Basically, by activating the appropriate button, your drone will be able to perform flips and barrel rolls, as well as numerous aerial stunts without requiring you to input complex directional commands.
It also sports three selectable speed modes, which is why it?s perfectly suited for starters and advanced-level drone pilots. In fact, it?s one of the fastest beginner drones Holy Stone has to offer. The only thing that most people don?t particularly like about the HS170 is that its total flying time is only six to eight minutes. This severely limits its compatibility (at least in terms of efficiency) as far as taking aerial photos and videos, but it?s pretty great for playing around.
Pros:
Very affordable
One of the fastest beginner-level drones
Equally suited for pros and starters
Perform cool tricks with a push of a button
Wind-resistant frame
Cons:
Holy Stone HS220 FPV RC drone
Next up is HS220 ? a FPV RC quadcopter drone. It?s outfitted with a high-quality HD camera, a foldable design, a touch switch for easy operation, and it boasts altitude hold and ?headless? modes. Even though it?s just a couple of dollars more expensive in comparison to our previous pick, it?s substantially more versatile and far less of a toy.
Despite being better-rounded than most beginner drones, it offers a very intuitive and simple layout of features and functions. Most features are accessible via ?one-touch? commands, so you?ll be able to start it off, land it, engage it in ?no-G? flight, or hold its altitude in the simplest fashion possible.
It also boasts a variety of built-in safety features, such as the emergency landing, low-battery indicators, and such.
The HS220 FPV RC Drone features four selectable speeds, but the application only allows you to use three, which is pretty much the only downside to this drone. Lastly, every feature is not only compatible, but highly complementary with the others, which makes this drone a perfect model for people who want to explore the skies and the lengths of premium-quality drone piloting technology.
Pros:
Four selectable speeds
Highly intuitive feature layout
One-touch activation, landing, and trick performing
Headless mode, altitude hold mode
Cons:
Not all flying modes (and speeds) are accessible via app
Holy Stone HS330 Hand Operated Mini Drone
The HS330 is a hand-operated mini drone that promises hours of fun and entertainment for kids, adults, and parents. It offers a very simplified layout of controls and settings, remote control, and superior flight time due to its premium-quality battery.
Speaking of which, the first thing that separates HS330 from similar beginner-level Holy Stone drones is that it offers 21 minutes of total flight time, which is roughly thrice as much in comparison.
This drone packs five built-in sensors that prevent it from crashing into furniture, which is why it?s so great for kids, and even toddlers. Further on that note, the HS330 will activate whenever you toss (or throw) it. Catching it midair will ?stop? it. Alternatively, you can use the one-key takeoff command.
This drone features three selectable speed modes that are accessible from both the main (remote) controller and the app. Another reason why this drone is so perfect for children is the fact that it features fully guarded propellers, which means that they won?t be able to hurt your little one?s fingers, even if they directly grab one of its sides.
Pros:
Fifteen minutes of total flight time
Various selectable speeds and modes
Completely safe for kids (throw & go activation)
Built-in sensors that prevent collision with other objects
Cons:
The propellers are shielded, but they?re generally pretty flimsy
Holy Stone HS370 Mini Drone
The HS370 is the last mini drone in the ?beginner? category of our review, and it?s also one of the most advanced entry-level drone models Holy Stone has to offer.
It packs an integrated 720p High Definition camera with a 60-degree FOV lens; it?s great for taking aerial snapshots and short clips as much as it is great for doing flips, rolls, and stunts. What?s more, it is ?smart? in the sense that it understands gesture commands, allowing you to take easy selfies or group pictures.
Gesture controls go to the extent of taking off, landing, and taking aerial photos, which means that you can still operate the drone even without a remote controller. Speaking of which, the HS370 is supplied with a very intuitive, beginner-friendly analog controller that features simple, straightforward commands that even a child can understand.
Furthermore, the HS370 features a built-in gravity sensor that heavily complements the altitude-hold and headless mode experience. One of the most interesting features of this drone is the ?path drawing? ability, which basically means that you can map out the entire flight path and checkpoints for your HS360 Mini Drone.
Pros:
Decently fast and superbly stable
Simple navigation controls
Flight mapping ability
Long battery lifespan
Cons:
Holy Stone Advanced Drones
Holy Stone HS110D FPV Drone
The HS110D FPV drone is the first ?advanced? Holy Stone drone in our review, and what makes it superior to all ?beginner? drones is the fact that it sports a heavily enhanced battery, a 1080 Full HD camera, and FPV real-time image transmission.
Now, the 1080p camera is easily the main reason why most people upgrade to HS110D regardless of what their previous drone was. An affordable model equipped with FHD video shooting ability is the initial description of HS110D, but it also packs the live video-feed feature, as well as VR compatibility.
We?re also seeing the ?headless mode? present into the array of features HS110D comes supplied with, and it?s what makes it beginner-friendly despite being an ?advanced? drone. It can be operated via transmitter or via Holy Stone app, both of which come supplied with a similar feature layout.
Lastly, the HS110D comes equipped with a modular battery, which means that it offers improved reliability, consistency, and ultimately, enhanced total flight time.
Pros:
Modular battery
Full HD built-in camera
Operated via transmitter or app
Adjustable speeds
Cons:
Slightly more expensive than average
Holy Stone HS240 Foldable Drone
HS240 picked up where HS110D left off. This drone features a vastly improved 4K camera and a foldable design, which sums up the main differences between the two.
The Holy Stone HS240 is obviously smaller than most ?advanced? Holy Stone drones, but its superior portability is precisely what sets it apart from most mid-priced drones available on the market.
It rocks a dual-lens replaceable camera, as well as a variety of automatic and automated features that boost its security and versatility, such as automatic return-home feature, the headless mode, and altitude-hold mode.
Pros:
Highly portable
4K camera functionality
An array of automatic features
Simplified controller and app
Cons:
Its base is slightly flimsier in comparison to other Holy Stone models
Holy Stone F181W WiFi FPV Drone
Holy Stone?s F18W Wi-Fi drone is nicknamed ?Chaser? due to its incredible speed and manoeuvrability.
It comes supplied with 720P High-Def camera, FPV transmission, one-key start, land, and emergency stop functions, as well as the acclaimed ?headless mode?.
One of the features that set The Chaser apart from other advanced Holy Stone drones is the set of adjustable LED lights. It?s absolutely amazing for night-time piloting exercises, and it?s HD camera is capable of taking cool, accurate photos and clips regardless of ambient lighting quality and intensity.
Pros:
Incredibly fast
Equipped with a HD camera
Controllable LED lights
Intuitive controller and app
Cons:
Semi-protected propellers
Holy Stone HS200 FPV Drone
Holy Stone?s HS200 FPV drone combines a variety of features its predecessors are supplied with. It?s outfitted with LED lights, though they are not as customizable, it boasts FPV real-time footage transmission, it sports a 120-degree FOV HD camera, and it rocks gravity-sensor and altitude-hold modes.
Essentially, the HS200 is a bit easier (and arguably slightly more entertaining) to use than most ?advanced? Holy Stone drones. It?s formidably fast, and it packs a plethora of protective features, gravity-sensor mode being one of them, that boost its overall security.
Pros:
LED lights
Incredibly fast
Durable construction
A plethora of protective modes and features
Cons:
The lights are not adjustable and customizable
Holy Stone Premium Drones
Holy Stone HS120D FPV Drone with GPS system
Holy Stone declared the HS120D as one of their ?lightest GPS? models, and that?s precisely what it is, although most people wouldn?t guess it judging by its slightly bigger frame.
This drone offers 16 minutes of total flight time, it?s outfitted with a 120-degree FOV Wi-Fi 1080p camera, and it rocks a built-in GPS system that tracks its location and which can be used to navigate the drone back home if it goes out of bounds.
Pros:
Follow-me and Smart Return modes
1080p Full HD Wi-Fi camera
16 minutes of total flight time
Fast and durable
Cons:
Holy Stone HS700D FPV Drone with GPS
Let?s wrap it up with HS700D, which might just be the ultimate Holy Stone drone. It?s among the handful of drones that feature 5G technology, and it also sports 2K FHD highly adjustable camera, custom flight mapping, and a built-in GPS sensor.
This drone is among the fastest and sturdiest models in the entire Holy Stone catalog, and some of its most prominent features are the low-power return, GPS-assisted flight, signal-loss return, and one-key return. Basically, it?s lose-proof drone that flies at bullet-fast speeds, and which can reach further distances before leaving the control area.
Pros:
5G technology
GPS-assisted flying
Low-power and signal-loss return features
Exceptionally fast and durable
Cons:
Pretty hard to use due to the manifold of features it comes supplied with
Best Holy Stone Drone Buying Guide
Holy Stone drones are all manufactured using relatively similar technologies and materials, so there aren?t many things that you should keep in mind.
Price is, obviously, the most definitive factor for most people, but luckily, the categories of HS drones are based on the price for the most part.
The other factor you should consider is your skill level; again, beginner drones section is where you should start if you have no experience, and ?premium? Holy Stone drones category is where you?ll find the best feature-packed models.
Frequently Asked Questions
How much do Holy Stone drones cost?
An average Holy Stone drone is roughly $500. However, some of their most exquisite models (such as HS720) cost several thousand dollars.
Are Holy Stone drones beginner-friendly?
Holy Stone offers a selection of drones that were specifically engineered and crafted for first timers and pilots-in-the-making.
How well do they fare against DJI drones?
DJI drones boast superior technologies, especially ?industrial? ones, but Holy Stone drones do not lag too far behind in terms of performance.
Last update on 2023-01-20 / Affiliate links / Images from Amazon Product Advertising API